Sinclairs Fitness' "Hero to us All" (again, he makes us call him that) has reached the South Island of New Zealand on his quest to cycle the length of New Zealand.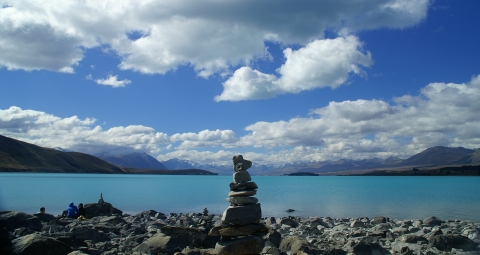 Bryan has cycled from the top of the North Island to the bottom of that island and caught the ferry to Picton at the top of the South Island.
Just How Can He Do It??
Bryan tells us that despite driving rain, a sore butt and aching legs he'll be able to whiz through the South Island in a couple of weeks because, as he said:
"I can do this because I trained on the fantastic equipment from Sinclairs Fitness.
The staff there are incredibly knowledgeable, very attractive and highly amusing.  I'm not saying this because I own the business – everyone says it.  Even Barack Obama said it when he was in the shop the other day!

Probably the best looking of the team is Adam.  Wow!  What a man!"
(This quote may or may not have been completely made up.)
Only Another 1,500 kms To Go!
Keep pedaling Bryan – because you know if you don't your idiot brothers will jump on the first plane to New Zealand and do the entire ride themselves and then say they're better/stronger/tougher than you!
Cheers
Adam