Recumbent bikes are a great place to start for conditioning and they're a great choice if you haven't exercised in a while.  They place less stress on body parts and have heaps of lower back (lumbar) support.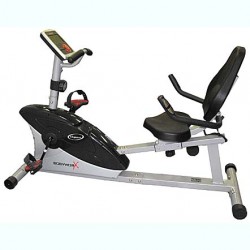 A recumbent bike is great for:
* cardiovascular fitness
* burning fat
* strengthening gluts, hamstrings, quadriceps, hip flexors and calf muscles
To get even more out of your workout, grab a set of dumbbells and get the upper body moving as well!
When you're looking to buy a recumbent bike, there are a few things you should consider that will make life easier:
* have a seat that is easily adjustable
* ensure a wide seat that will support the entire back and not just half of the back
* because of the big weight of these bikes it's essential to have strong transportable wheels
* good quality pedal straps is a must as a little more pressure is placed on the pedals
Be sure to test plenty of bikes prior to purchase – you want to be sure that you have adequate lower back support and that the back angle is suitable for you.
Cheers,
Laura